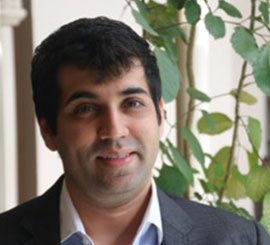 Ashish Jhamb
Director & Chief Operating Officer
Ashish Jhamb, has spent his entire career in the insurance industry. Inspired by his grandfather the late C. D. Jhamb, who was an Executive Director at the Life Insurance Corporation., he turned entrepreneur at an early age. Ashish started his career as a Corporate Agent of Oriental Insurance in the year 2003. Over the next 10 years, he has received a number of awards in the industry, including their number one advisor nationwide

Ashish was a core member of his family's long standing business called Insurance & Tax Consultancy Services (ITCS), which is a firm of actuaries that provides advisory and actuarial valuation services. Today, ITCS is one of the leading actuarial valuation firms in India and its focus has been on the valuation of Gratuity, Pension and Leave Encashment Liability. He comes from a family with strong insurance roots,; several members of his family had agencies of the leading life, general and health insurance companies in India. The Jhamb family built a large client base of over 2,000 corporates and individuals across India.

Ashish has a strong technical knowledge of all lines of life and general insurance business. His underwriting and actuarial experience and risk management background has been a significant strength in advising on complex insurance programmes. He has played an advisory role to corporates to settle a number of complex claims.

He has been invited to various forums as a speaker on Insurance. He is passionate about education and growing the insurance industry. He is a regular guest speaker at insurance seminars where he shares his experience on 'How to become a successful Insurance Intermediary'. He is a visiting faculty member fpr the past eight years at K.C. College, one of the leading colleges in Mumbai teaching related to Insurance and Risk Management to students persing the Bachelors of Commerce Degree (with specialization in Banking and Insurance). Ashish is a qualified Chartered Accountant.